-11%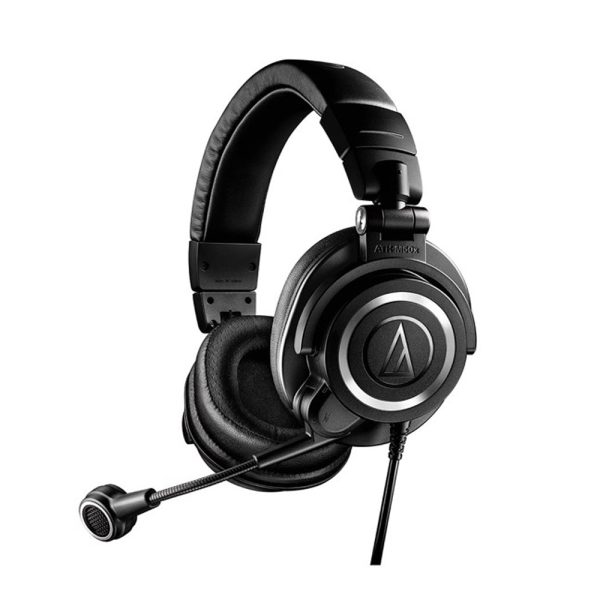 Audio-Technica ATH-M50xSTS StreamSet Closed Back Streaming Headset with Cardioid Condenser Microphone
Streaming Stereo Headset with 45mm Drivers, Switchable Earpads, and 3.5mm/XLR Male Outputs
2 in stock
Description
Best-selling Headphones Transformed for Streaming
The ATH-M50xSTS StreamSet from Audio-Technica melds years of headphone and mic experience into one high-fidelity headset built for streamers. Whether you're a monetized pro or simply streaming for pleasure, the ATH-M50xSTS StreamSet is a surefire way to boost livestream production value fast. Audiences will appreciate this StreamSet's clear, professional sound and a directional cardioid boom mic that brings the banhammer down on distracting background noises. But equally vital is your audio experience! Closed-back earcups and custom 45mm drivers make for isolated, immersive audio and clear, accurate bass response that's on par with favored Audio-Technica headphones like the ATH-M50x (the StreamSet's direct inspiration). As a bonus, two earpad sets are in the box, each tailored for optimal comfort and sound in different scenarios. With features like these, Audio-Technica proves to cater to the diverse needs of today's streamers.
Studio-grade speech with side noise rejection
A pro headset like the ATH-M50xSTS is the easiest way to improve stream quality overnight. The ATH-M50xSTS StreamSet's custom cardioid mic really stands out in a crowded field. This mic is directional and features a cardioid pattern, the superlative pick for streaming. The cardioid pattern boasts excellent side-noise rejection with emphasized vocal clarity and reduced ambient interference from unwanted sources such as roommates, traffic, and HVAC systems. This onboard mic is a modified take on Audio-Technica's acclaimed studio mic 20 Series, so you can expect studio-quality vocal presence with consistent output. And to seal the deal, the StreamSet's closed-back earcups prevent audio from leaking into the microphone. Sound sources stay separated for top-notch quality all around.
Flexible features and accessories
Whether you're going live for an hour or an entire day, this headset's flexible features prioritize comfortable, efficient workflow. For starters, Audio-Technica includes two sets of interchangeable earpads tailored for different needs. Two M50x-style pads deliver the tight isolation and premium fidelity of closed-back studio monitoring headphones. For marathon sessions, streamers can opt for an alternate pair of leatherette pads for long-term breathability and comfort while keeping headaches and ear fatigue at bay. What's more, the boom arm doubles as a mic mute switch. Simply flip the arm upward to mute — no button hunting necessary. Streamers at City Music love this thoughtful design. It makes quick breaks even quicker for a professional look and sound that keeps audiences coming back for more.
Audio-Technica ATH-M50xSTS StreamSet Streaming Headset Features:
Versatile high-fidelity headset with microphone, built for streaming
Pairs legendary closed-back ATH-M50x headphones with the speech clarity of a cardioid condenser (based on reliable 20 Series mics)
Custom 45mm large-aperture drivers — strong clarity across the entire frequency range with deep, accurate bass
Cardioid condenser mic — rejects background noise and delivers crystal-clear studio-grade audio
Flexible boom arm for precise mic placement on any head
Convenient quick-flip mute — flip boom arm up to mute microphone
2 distinct sets of interchangeable earpads included
M50x-style pads deliver maximum fidelity and tight isolation
Mesh/leatherette pads emphasize breathability and comfort for marathon sessions
Hard-wired cable with 3.5mm connector (2m/6.6 feet), 1/4-inch adapter, and XLR output
Outstanding 15Hz–28kHz frequency response range
Premium build including rare earth magnets and copper-clad aluminum wire voice coils for long-lasting fidelity
Analog model — also available as a USB headset with built in A/D converter
Additional information
| | |
| --- | --- |
| Application: | Gaming |
| Open/Closed: | Closed |
| Fit Style: | Circumaural (Around the Ear) |
| Driver Size: | 45mm |
| Frequency Response: | 15Hz-28kHz |
| Impedance: | 38 ohms |
| Microphone Type: | Electret Condenser |
| Polar Pattern: | Cardioid |
| Cable Length: | 6.6 ft. |
| Cable Type: | Straight |
| Plug Size: | XLR Male, 1/8" TRS |
| Manufacturer Part Number: | ATH-M50xSTS |