-20%

Udo Roesner Da Capo 75 2-channel 75 watts Acoustic Guitar Amplifier (Display Piece)
a light weight, powerful all-in-one acoustic combo amplifier that represents your sound where ever you are on stage, at home or when recording.
2 in stock
Description
The Udo Roesner Da Capo 75 is a premium Acoustic Guitar Amplifier, developed by one of the world's foremost Acoustic Amp designers, and endorsed by Tommy Emmanuel. The Da Capo 75 boasts two channels, each with a combo XLR / jack input, 3-band EQ, and 6 effects. Its Class A/B analogue power amp delivers warm, natural sound, while analogue preamps reflect the true tone of your instrument.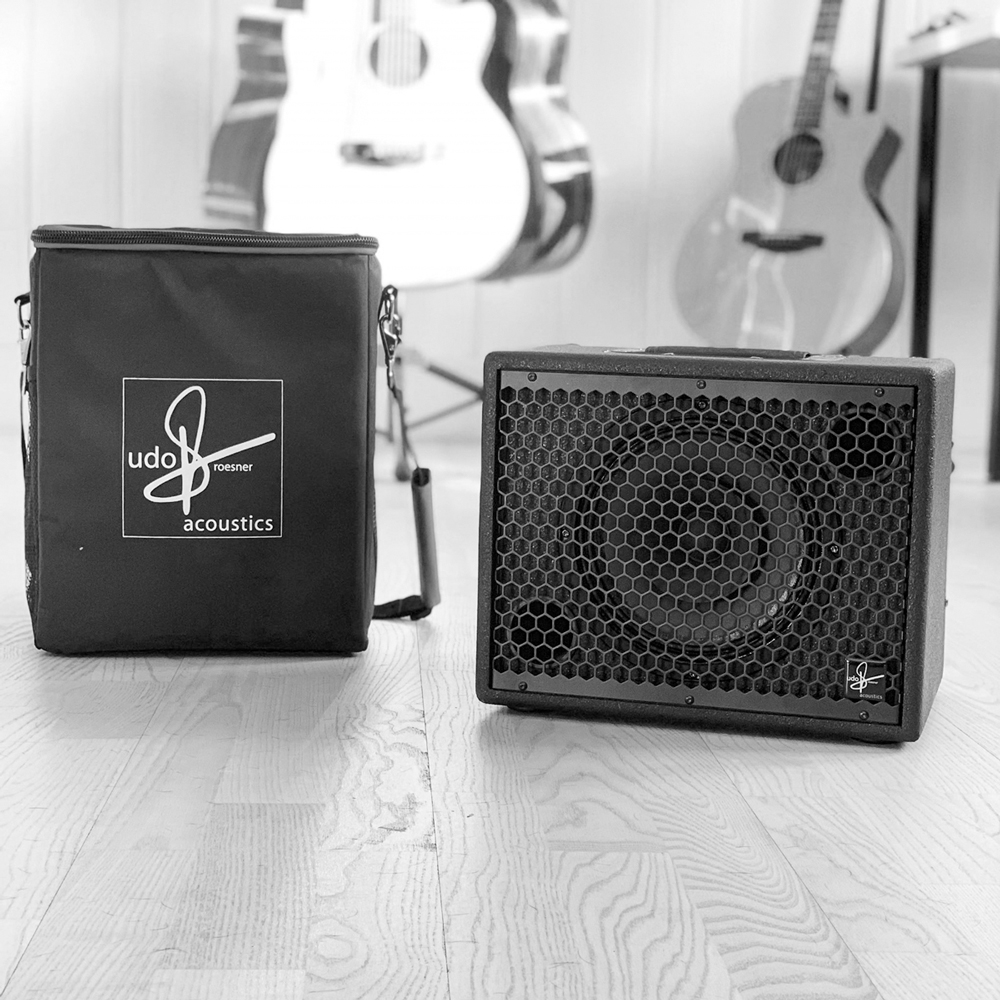 The Udo Roesner DaCapo 75 is a significant new option in the increasingly competitive Acoustic Guitar Amplifier market. Considering its provenance, it is worthy of consideration right off the bat. Pop in to our Glasgow shop and demo it for yourself. If buying online we ship fast across the UK and Europe. Includes a soft gig bag.
The incredible DaCapo 75 is the creation of Udo Roesner, an amp designer with over 30 years' experience, and founder of AER. This excellent acoustic guitar amp boasts fantastic performance capabilities and class-leading specification all in a compact housing.
A 2-channel acoustic instrument combo amplifier equipped with custom-made 8-inch twin cone type speakers, the Da Capo 75 boasts 75W of output power in a compact housing and has six in-built effects.
Analogue Preamps: The Udo Da Capo 75 uses analogue preamps which have been designed to reflect the true dynamic performance of your acoustic instrument, rather than a coloured, Hi-Fi reproduction.
Class A/B Analogue Power Amp: The Da Capo 75 features a Class A/B analogue power amp, not a digital class D amp. Therefore the amp is a little heavier than some others, but does not suffer from the dynamic compression of class D amps, and when matched to the analogue preamps sounds incredibly warm and authentic.
Larger Transformer for Extra Power: This powerhouse amp also has a larger transformer, so it draws a little more power than the competition. But this is a definite benefit, as it delivers more current to the amplifier which helps power the incredible low end reproduction.
Custom Housing: The amplifier's box housing has also been sized and tuned to further ensure both clarity and low end response.
Premium, but still affordable: Designed by Udo in Germany and France at MARco-labs and manufactured to these exacting standards in Indonesia, you can be sure that despite the Da Capo's emphasis on sound quality and engineering, it remains affordable.
How does the Da Capo 75 sound?
Udo created the Da Capo 75 to deliver a little more low end and a more transparently mellow mid-range compared to other premium compact acoustic amplifiers. The internal power amplification section is analogue, and has a more controlled compression circuit than competitor products. These two features ensure a wonderful warmth of tone and contribute to Udo's vision for this new venture. This new tonal signature has won support too, with Tommy Emmanuel, amongst other guitar virtuosi, choosing to use and recommend this very amplifier.