The ZOOM F6 Professional Field Recorder.
32-Bit Recording
Capture the Calm And the Storm
The Zoom F6 professional field recorder features both 32-bit float recording and dual A/D converters, providing an unprecedented amount of dynamic range. With 6 inputs, Zoom's solid time code, multiple power options and wireless control, the F6 is poised to be your new secret weapon.
---
32-Bit Float Recording
The F6 uses 32-bit float recording with dual A/D converters to capture both explosive and subtle sounds at full audio quality – without ever adjusting gain!
For Those Hard To Reach Places
Rugged enough to withstand the most demanding scenarios and small enough to fit into the tightest spaces, the F6 will become your go-to recorder.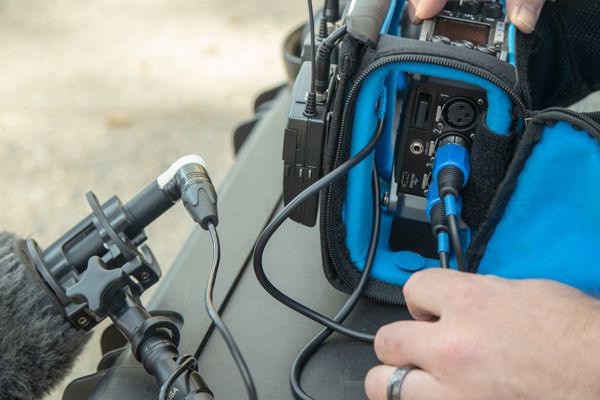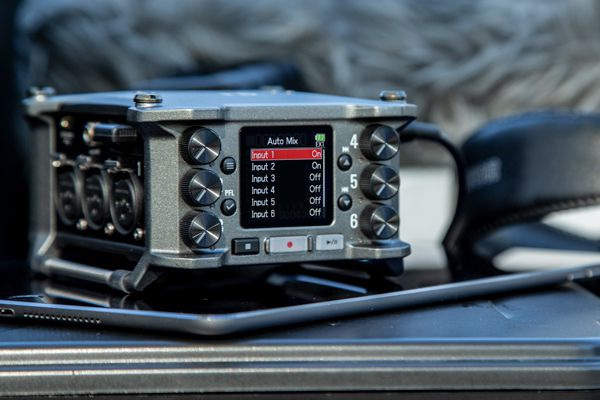 Mic Preamps
The F6 is equipped with six professional-grade preamps. Featuring a super-low noise floor, high gain, and selectable mic/line levels for each input.
Precision Time Code
The ZOOM F6's Temperature Compensated Crystal Oscillator generates time code at 0.2 ppm accuracy.
Advanced Look-Ahead Hybrid Limiters
When recording in 24-bit, the ZOOM F6 uses advanced look-ahead hybrid limiters to provide overload protection.
Zoom AutoMix™
Zoom AutoMix™ lets you keep your eyes on the action by automatically adjusting the levels of your mix to reduce ambient sound.
Monitor What Matters
Use the F6 and your headphones to keep tabs on your tracks pre- or post-fader. Check levels, route signals to the left or right and set alert tones for battery and recording status.
iOS Wireless Control
The F6's F Control APP lets you monitor signals, adjust levels, trigger transport controls, enter metadata and more from your iPhone or iPad via Bluetooth.* Optional BTA-1 Required
Fine Tune Your Mix
The Zoom F-Control (FRC-8) gives you more flexibility in the field. With 60 mm faders and controls for trim, pan and track-arming, the FRC-8 is a must-have for any professional filmmaker.
 *The F-Control is sold separately!
Ambisonics Audio
The F6's Ambisonics mode offers precision A-to-B decoding and balanced gain linking, enabling you to capture spatial audio for VR, AR and more. Download the FREE Zoom Ambisonics Player software to decode and edit your 360-audio with ease.
Features of the Zoom F6 Multi-Track Field Recorder
6-channel/14-track field audio recorder/mixer
6 discrete inputs with locking Neutrik XLR connectors
High quality mic preamps with up to 75 dB gain and less than -127 dBu EIN
Switchable +4dB inputs with mic/line options
Advanced Look-Ahead Hybrid Limiters
Zoom AutoMix™ software
Accurate Time Code (0.2 ppm when on and when powered off) I/O on 3.5mm stereo mini; dropframe/non-drop formats with Jam Sync
Three different power supply options: 4x AA batteries, Sony L-Series batteries, or Zoom AD-17 12V AC Adapter (L-Series batteries not included)
3.5mm stereo mini unbalanced output jack
Dedicated headphone output (100 mW) with volume control SD/SDHC/SDXC card slot, up to 512 GB
Use as an 6-in/4-out USB audio interface (up to 96kHz)
Use as an audio interface and record to SD card simultaneously (up to 48kHz)
Free Zoom F Control App for iOS allows wireless remote control, file renaming, and metadata entry
What comes with the purchase of the Zoom F6 MultiTrack Field Recorder?
F6 Field Recorder
Camera mount adapter
AA batteries (x4)
Cubase LE and WaveLab LE download codes
Quick Start Guide
Optional Accessories for the Zoom F6 MultiTrack Field Recorder (Sold Separately)
Specifications
Audio Interface
6 x 14 Multitrack SD Recorder/Interface
A/D Resolution
24-bit/192kHz (fixed), 32-bit (float)
Simultaneous Rec Tracks
6 (WAV), 2 (MP3)
Analog Inputs
6 x XLR (mic/line)
Analog Outputs
1 x 1/8" (line out)
Headphones
1 x 1/8"
Memory (removable)
SD, SDHC, SDXC (up to 512GB)
File Format
WAV, MP3
EQ
Low-cut filter, Highpass filter
Effects
Delay, Limiter
USB
1 x Type USB-C (6 x 4)
Bluetooth
Optional BTA-1 Adapter Slot
Clock I/O
1 x 1/8" (time code in/out)
Software
Zoom AutoMix software, Optional F Control App (iOS, BTA-1 required)
Power Supply
4 x AA Batteries / Sony L-Series Batteries / USB AC adapter
Battery Life
Battery type dependent; 5-7 hours (24-bit/48kHz), 1.5-3.5 hours (24-bit/192kHz)
Stand Mountable
Camera Mount Adapter
Dimensions
100 mm (W) x 119.8 mm (D) x 62.9 mm (H)
Weight
520g
* Specifications and appearance are subject to change without notice for improvement.
* All product names and company names are the trademarks or registered trademarks of their respective owners.