The Evolution of a Modern Classic
Never before has a single instrument captured the signature sound, the unique performance experience, and the aesthetic satisfaction of so many definitive keyboards as the KORG SV-2 Stage Vintage.
Ten years ago, KORG launched the Stage Vintage line to wild acclaim. The combination of an intuitive live panel, the premier keybed, the ultimate realization of coveted vintage sounds, the clarity of world-class pianos, the warmth and character of period-proper effects, and the distinctively smooth shape has inspired musicians from around the globe for over a decade.
Available with either 88 keys or 73 keys, these SV-2 models are the latest additions to the Stage Vintage series, featuring more of everything that makes an SV great. More Sounds. More Memory. More Polyphony. More Presets. More Control. It is quite literally everything one could want in a performance stage piano … and more. Plus, be sure to check out the SV-2S models, equipped with an internal K-ARRAY speaker system.
More. More. More.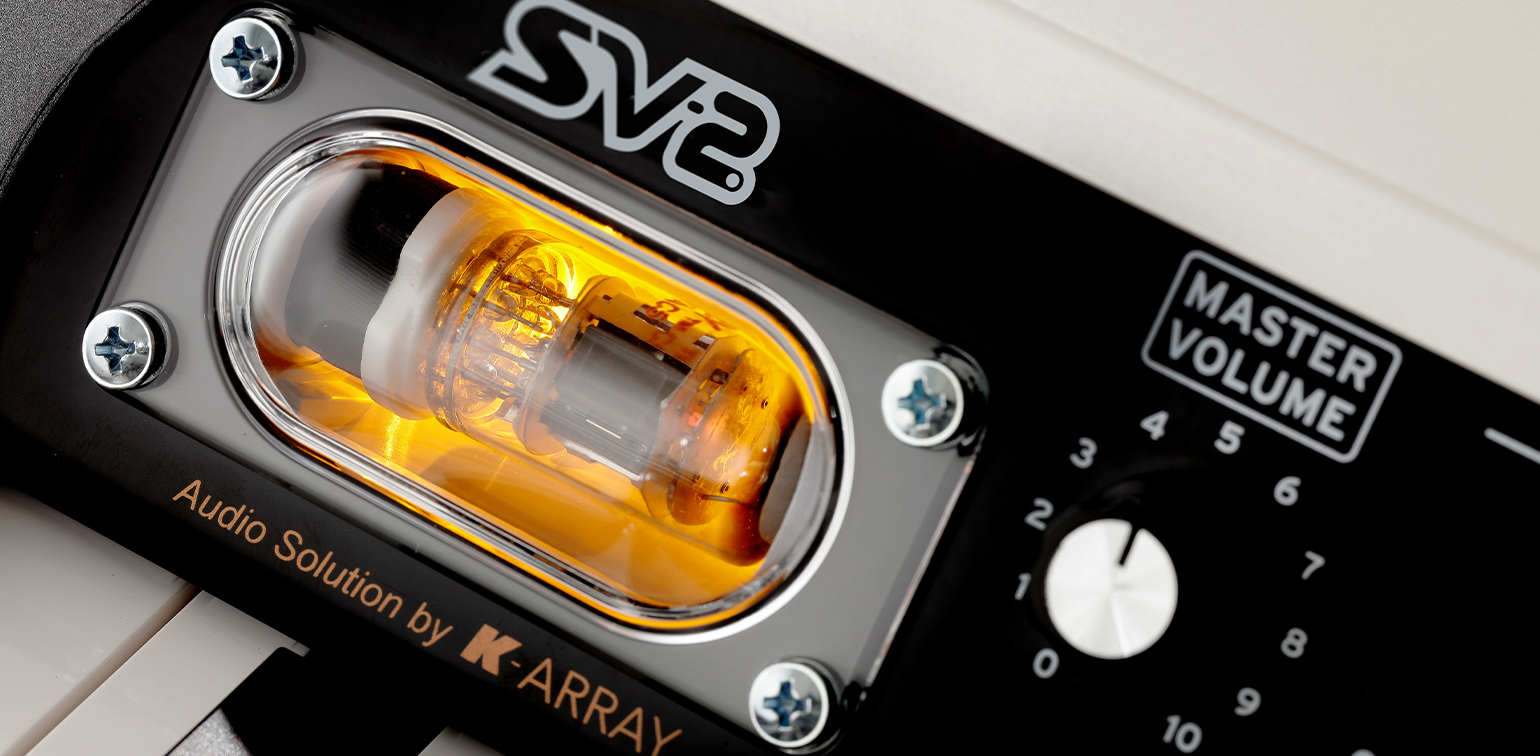 The SV-2 contains over ten times the sample data available in previous SV models, providing ample memory for many all-new piano and keyboard sounds. The SV-2 is home to 72 compelling sounds, and provides 64 memory locations to store edited Favorites for instant access during performance.
Using the SV-2 Editor software, users are now free to create their own split and layered programs and save them to one of the Favorites locations. In fact, a single favorite can access up to three timbres at once – A pi-ano/bass split with a layer of strings, for example. While user splits must be created using the SV-2 Edi-tor, the split point on the keyboard can be adjusted directly from the front panel. Plus, polyphony of the SV-2 now stands at 128 voices, allowing more effective layering of sounds or sustained chording.
Faithful Sound Reproduction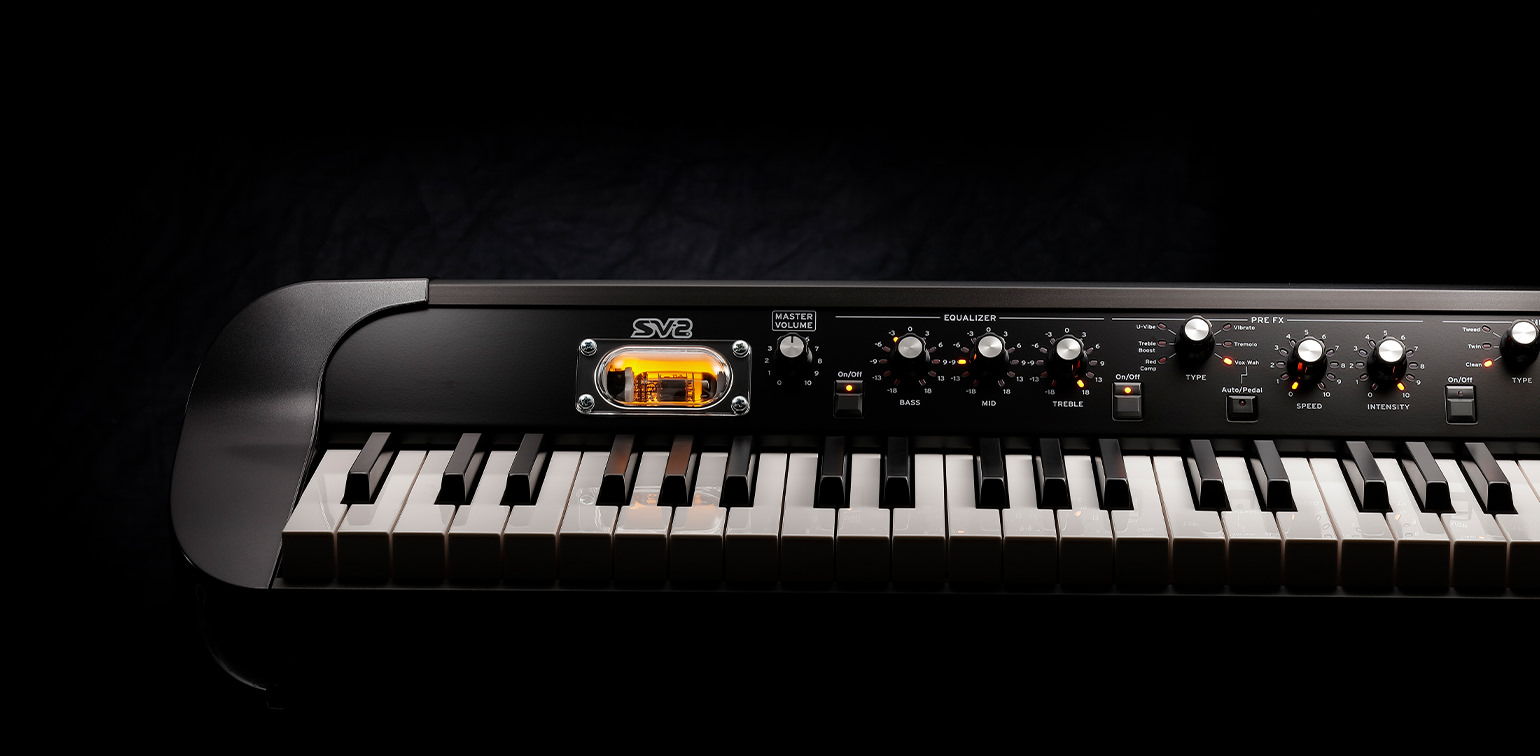 The SV-2 represents the pinnacle of audio sampling techniques and careful instrument preparation, de-livering the most exacting and accurate rendition of so many keyboard classics. Using only the best-maintained instruments and the latest multi-mic'ing methods, every sound has been captured as pre-cisely as possible.
The slap of the tine, the release of the hammer, the click of the contacts—every ele-ment is amazingly preserved in the RX Layer; mix in as much or as little of these authentic artifacts as you need. In addition, the full dynamic range of each instrument has been faithfully preserved, recreat-ing all of the timbral and volume changes generated from a ppp (pianississimo) touch to an fff (fortissis-simo) strike – and everything in between. This detailed sampling regime creates a three-dimensional sense of presence, allowing the sound to fully occupy its place in the mix or in the performance space.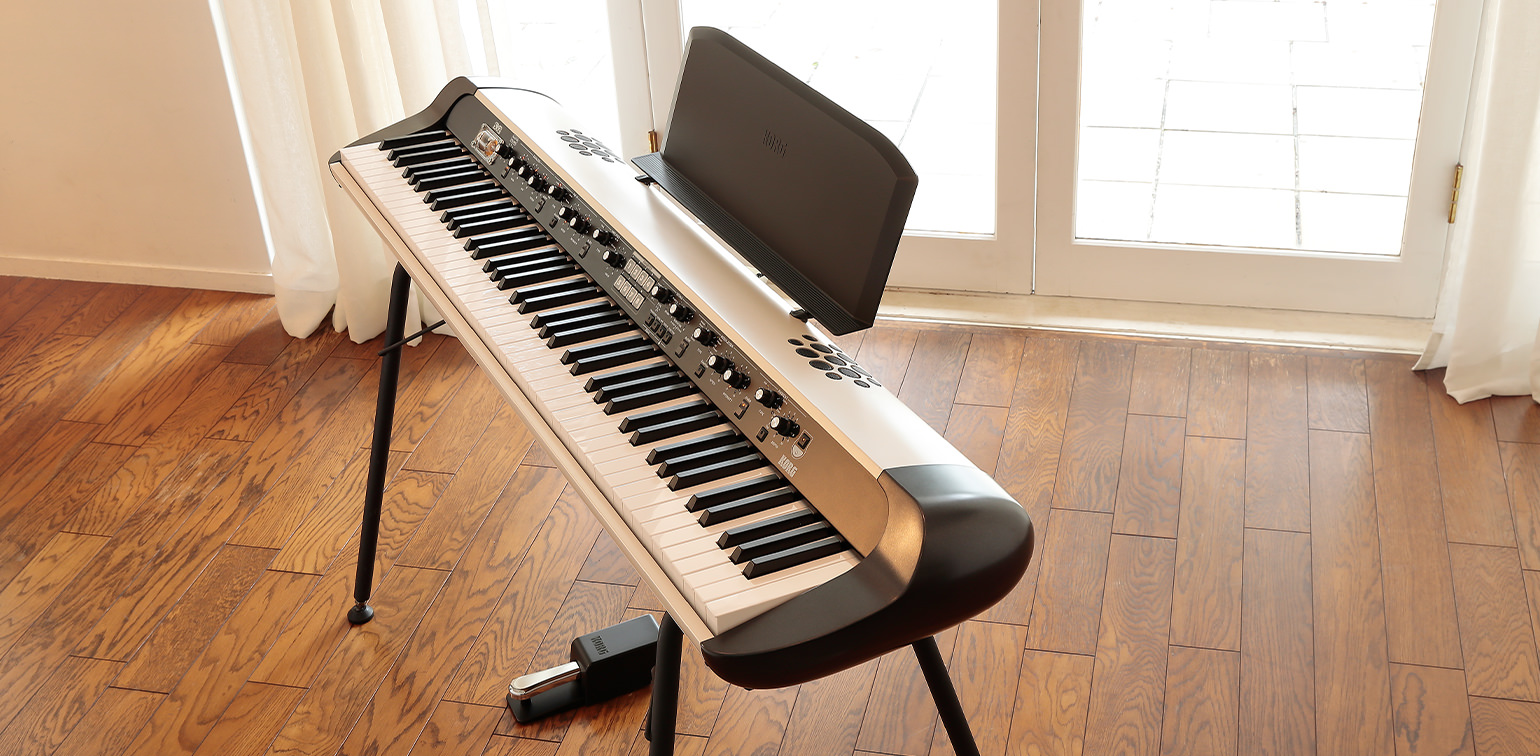 Coveted Classics
Coveted Classics Experience a treasure trove of classic electro-mechanical, transistorized, tape-driven, analog, and digital keyboard instruments, all reproduced with stunning realism. These sounds defined decades of popular music, and are now once again in demand.
Plenty of Pianos
The SV-2 remains, at heart, a stage piano. At the touch of a button, you can summon the most outstand-ing grand piano sounds from around the world – including exemplary pianos from the leading German, Italian, Austrian, and Japanese instrument makers. /p>
Seize Control
The SV-2 invites you to take command of your sound. There is no LCD screen, no menus to dive through. Instantly inviting and familiar, the front panel is always live, so go ahead – grab a knob, rotate it, tweak it, and experiment.
Agility and Expression
All SV-2 Stage Vintage instruments share the finest KORG RH3 graded-hammer action keybed. As on a grand piano, the weighting of the keys is graduated across the keyboard; heavier in the lower registers and becoming lighter in the upper registers.
Free SV-2 Editor
Despite the wealth of on-board SV-2 features, the SV-2 Editor (available as a free download for Windows or Mac) provides a convenient and detailed pathway to editing, organizing, cataloging, and storing edit-ed sounds as Favorites for the SV-2.
Keyboard

Keyboard

SV-2 /SV-2S (73key)

73 keys (E to E), Velocity sensitive KORG RH3 (Real Weighted Hammer Action 3)

SV-2 /SV-2S (88key)

88 keys (A to C), Velocity sensitive KORG RH3 (Real Weighted Hammer Action 3)

Touch selection

Eight curves

Tuning

Master Transpose, Master Tune, Tuning curves

Sounds

Sound generation

EDS-X (Enhanced Definition Synthesis - eXpanded)

Maximum Polyphony

128 notes

Multi Sound

Layer, Split

Factory Sounds

72 (6 Basic sounds x 2 sets, 6 variations)

EP1 (Vintage)

MK I Suitcase, MK I Stage, MK II Suitcase, MK II Stage, MK V Stage, MK V Bright, Dyno EP, Dyno EP Bright, Wurly, Wurly Classic, Wurly Dark, Wurly Bright

EP2 (Various)

FM Piano 1, FM Piano 2, FM Piano 3, FM Piano & Pad, Pianet T, Pianet N, Hybrid Piano, Hybrid Tine, Wurly & Strings, FM & Strings, MK II & Pad, FM & Pad

Piano 1 (Acoustic)

German Grand, German Classic, Italian Grand, Italian Bright, Japanese Grand, Japa-nese Bright, Austrian Grand, Austrian Classic, Japanese Upright, Upright Bright, German Upright, Rock Piano

Piano 2 (Various)

Electric Grand, German Mono, KORG M1 Piano, KORG SG-1D, Digital Piano, Electra Piano, Tack Piano, Honky-Tonk, Piano & Strings, Piano & Pad, Piano & Synth, Piano & Brass

Clavier

Clav AC, Clav AD, Clav BC, Clav BD, Harpsichord, Harpsichord Oct, Perc. Organ, Rock Organ, Jazz Organ, VOX Organ, Church Organ, Pipe Organ

Other

Full Strings, Classic Strings, Tape Strings, Strings & Voices, Warm Pad, Bright Pad, Orchestra, Piz-zicato & Glock, Brass, Synth Brass, Pad/Mini Lead, Pad/SynthLead

Favorite sounds

64 (8 banks x 8 variations) for saving of customized settings

Effects

Structure

6 effects (5 effects + 1 total effect)

Equalizer

Bass, Mid, Treble

Pre FX

Red comp, Treble boost, U-Vibe, Vibrato, Tremolo, VOX Wah (Auto or Pedal control)

Amplifier models

Clean, Twin, Tweed, AC30, Boutique, Organ Amp + Cabinet Models, Valve Reactor Technology – 12AX7 (ECC83) valve

Modulation

Classic Chorus, Black Chorus, Orange Phaser, Small Phaser, MX Flanger, Rotary (Slow/Fast control)

Ambient

Room, Plate, Hall, Spring, Tape Echo, Stereo Delay (Tap tempo)

Total FX (only editable with SV-2 Editor)

Stereo Mastering Limiter, Stereo Limiter

Panel controls

Sound Select

TYPE knob, VARIATION knob, FAVORITES 1–8 switches

Favorite Sound select

1–8 switches, SOUND TYPE knob

Effect Control

Equalizer: On/Off switch, BASS knob, MID knob, TREBLE knob

Pre FX

On/Off switch, TYPE knob, SPEED knob, INTENSITY knob, AUTO/PEDAL switch (available when the TYPE = Vox Wah)

Amplifier

On/Off switch, TYPE knob, DRIVE knob

Modulation

On/Off switch, TYPE knob, SPEED knob, INTENSITY knob, Slow/Fast switch (available when the TYPE = Rotary.)

Ambient

On/Off switch, TYPE knob, DEPTH knob, Tap (available when TYPE = Stereo Delay)

Volume

Master Volume

Switches

Transpose, Local Off, Touch, Function

Demo Songs

72 songs (one song for each preset sound)

Input/Output connections

Audio Output

L, R connector (XLR balanced), L/MONO jack, R MONO jack (6.3 mm [1/4"] unbalanced), stereo phone jack on the front panel 6.3 mm [1/4"].

Audio Input

L/MONO jack, R/MONO jack (6.3 mm [1/4"] unbalanced)

MIDI

IN jack, OUT jack

USB

USB: 2.0 Type B connector (doubles the MIDI Interface)

Damper Pedal

KORG DS-2H (included), DS-1H(sold separately)

Pedal 1

PS-1 foot switch, PS-3 foot switch (sold separately)

Pedal 2

Volume/Expression, XVP-20, EXP-2, PS-1 foot switch, or PS-3 foot switch (sold separately)

Headphone

Headphone jack(1/4" stereo jack)

Amplification (SV-2S)

Speakers

2 x 2.5" with 2 x 3" passive radiator

Amplification power

2 x 15 W

Main specifications

Power Supply

Internal switching adapter, AC 100~240 V, 50/60 Hz

Power Consumption

SV-2

16 W

SV-2S

25 W

Dimensions (W x D x H, excluding music stand):

SV-2/SV-2S (73key)

1,143 mm x 347 mm x 157 mm/45.0" x 13.66" x 6.1"

SV-2/2V-2S (88key)

SV-2/2V-2S (88key): 1,356 mm x 347 mm x 157 mm/53.3" x 13.66" x 6.1"

質量(譜面立て含まず)

SV-2 73key

17.2kg

SV-2 88key

20.4kg

SV-2S 73key

18.3kg

SV-2S 88key

21.5kg

Others

Included Items

Power cable, Music stand, DS-2H damper pedal, Quick Guide.

Accessories (sold separately)

Stand

ST-SV1 piano stand

carrying bag

CB-SV1 73
CB-SV1 88

Dumper pedal

DS-1H

EXP/VOL pedal

XVP-20

Foot controller

XP-2

Pedal switch

PS-3

* Specifications and appearance are subject to change without notice for improvement.
* All product names and company names are the trademarks or registered trademarks of their respective owners
.