The most dazzling and expansive collection of sounds ever put into a Korg synthesizer
NAUTILUS pushes the boundaries of what a performance synth and workstation is capable of. With the power of nine engines to drive a new approach to sounds, plentiful sampling, audio recording, effects, and processing power, there is simply no other synth that delivers more to explore sonically, with the workflow to get you there faster than ever. Korg spent years refining all our digital, analog, processing, and hardware technologies and delivering them in a way that helps the musician connect with their instrument. The result is the incredibly powerful, one-of-a-kind NAUTILUS.
88-key model with piano touch, 73-key model with light touch and 61-key model available
The keyboard on the 88-key model of the NAUTILUS uses a four-stage real weighted hammer action made in Japan, called the RH-3. This action is heavier on the lower notes and lighter on the higher notes for superb playability. The 73-key model features a much-requested light-touch synth keyboard from C to C, as with the 61-key model. This key action lets you play organ parts with plenty of glissandos, as well as synth solos that take advantage of the keyboard's wide range. The 88-key model is fitted with luxurious wooden side panels, and the 73-key and 61-key models a completely new design with impressive curves that rise from the bottom of the unit to the sides, patterned after the NAUTILUS' namesakes: the Nautilus submarine and the cephalopod mollusk. All of these elements make the NAUTILUS a distinctive instrument onstage as well, brimming with personality.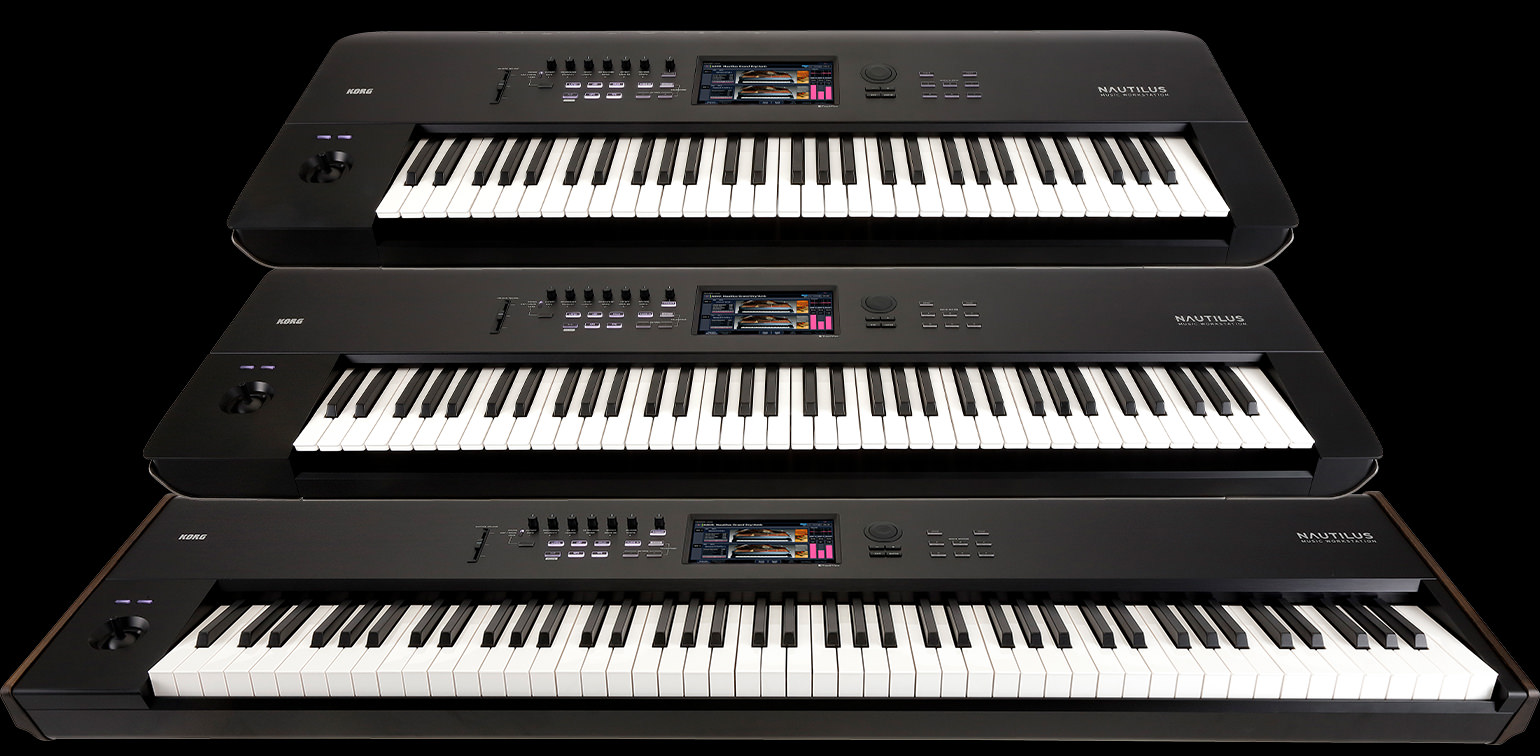 The most dazzling and expansive collection of sounds ever put into a Korg synthesizer
The NAUTILUS features nine dedicated sound engines to realistically reproduce sounds such as pianos, electric pianos, organs and more.
New sounds offered over three broad categories The approach to the included sound on NAUTILUS, started with Korg setting aside our preconceptions of what sound should be like on a conventional music workstation, and instead focused on pushing the boundaries of sampling and programming to create a brand-new classifications of programs that we divide into three groups:
"Unique" sounds: The NAUTILUS brings you distinctive sounds including phrase loops, prepared pianos, found percussion and more. Many seldom heard-of musical instruments found in different regions around the world can be difficult to play, but distinctive phrases played on these instruments are featured on the NAUTILUS. Use these phrases as-is in your songs—let your imagination be your guide. The NAUTILUS features sounds that were sampled for the first time just for this instrument, including prepared piano sounds created by placing different objects between piano strings and recording samples, or "found percussion" sounds made by turning ordinary items into instruments to be struck. Not only do these novel and mysterious sounds provide an unexpected flavor to your songs, they offer broad possibilities for sound effects used in film and TV music as well.
"Current" sounds: The NAUTILUS also offers the freshest sounds that blend in well with today's music scene, including synths, drum kits, special effects and more. For synths, be sure to check out the EDM, electro and chiptune sounds for starters. Also, the NAUTILUS features more than 50 kinds of drum kits—sounds that most strongly reflect the changes in music over time. The special effect sounds offer useful material like drums added to dance music to create beats—sounds that you can put to use right away.
Standard sounds: We've brought together all of the most important sounds a workstation needs including piano, electric piano, guitar, bass guitar and more, covering all genres. For the newly sampled piano sound, we've also recorded the lovely sonic ambience of the studio, and you can mix the piano and ambience sound as you like with the new ambience sound. A new electric piano model with a characteristic thick sound has been added, which works great for funky playing styles. We've also added many phrases that let you play back actual performances of guitar and bass parts that keyboardists will find useful.
System
NAUTILUS System Version 1.0
Amount Of Keys
88 Keys
Touch Sensitive
Yes
Aftertouch
No
Split Zones
No
Modulation Wheel
Yes
Antal röster
200
Sound Engine
Modeling, Sample based, Virtuell Analog
MIDI interface
1x In, 1x Out, 1x Thru
Storage Medium
SSD, USB to Device
USB-port
Yes
Effects
16
Arpeggiator
Yes
Sampler
Yes
Number of analog outputs
6
Digital Output
No
Pedal Connectors
1x Pedal, 1x Footswitch, 1x Sustain
Optional Expansion Boards
No
Display
Yes
Dimensions (W x D x H)
1437 x 387 x 139 mm
Weight
23.1Kg