Limited-edition model in a new stunningly eye-catching colour combination
The "KRONOS Titanium" is a new special edition variant of Korg KRONOS, featuring a titanium color front panel with a brushed metal finish. For the first time on a KRONOS, it uses natural maple material for its side panels with a light finish that accentuates the wood grain, and also features an additional Italian-made grand piano well-known for its clarity, setting it apart from German-made and Japanese-made pianos. These are the leading quality piano sounds that you expect from the KRONOS, together with a new look unmistakably different even at a distance. The KRONOS Titanium is available in two models: 61-key or 88-key.
* Specifications other than the color of the chassis and side panels, and the Italian piano, are the same as the conventional KRONOS.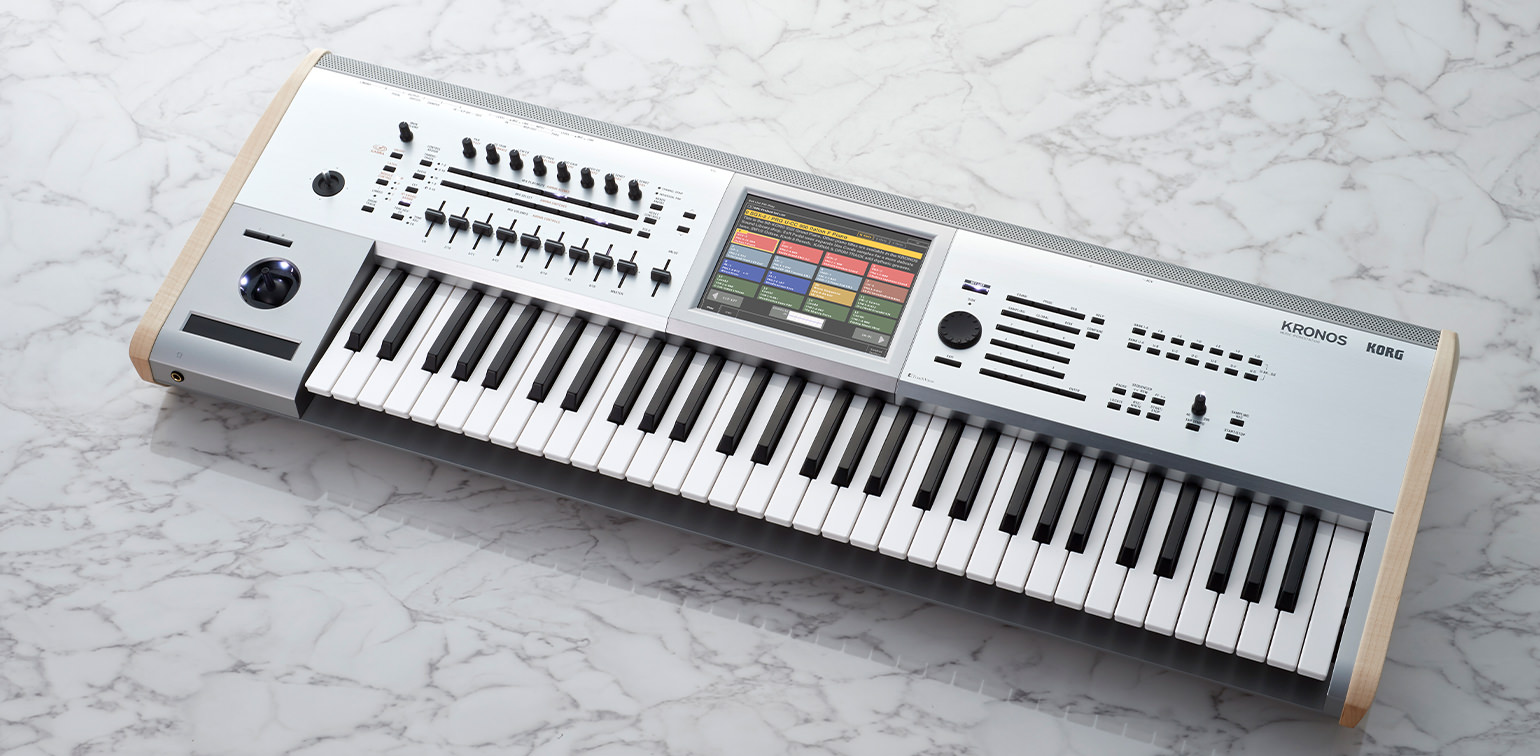 Evolve.
When ambition, imagination, and technology converge—the results are spectacular. Witness KRONOS. Created by KORG to satisfy today's most demanding, accomplished performers and producers—as well as tomorrow's visionary leaders—KRONOS embodies over 50 years of artistic vision and production expertise. With nine distinct synthesis engines and a complete suite of performance and productions tools, KRONOS is simply the most versatile synthesizer ever made.
KRONOS restores the magic, the thrill, and the promise that only a visionary new instrument can provide. And KRONOS delivers on that promise. Every resources and technology of service to the modern musician has been refined, perfected, and integrated into a single instrument, and is available on demand. Multiple state-of-the-art sound generation techniques represent the pinnacle of software realization. Onboard effects open the door to processing any internal or external audio source with dazzling results. Multitrack audio and MIDI recording deliver efficient studio operations in a mobile platform. Hands-on hardware includes an assignable control surface, dual joysticks, ribbon controller, top-of-the line keyboard action, and KORG's revolutionary tap-and-drag color TouchView™ display. Best of all, KRONOS integrates all of these music-making resources into a single instrument in ways that no software setup or hardware platform can rival.
KRONOS easily delivers everything you'd expect, plus many things you've only dreamed of. Set List mode keeps all of your custom settings and performance notes organized in the display for on-the-fly selection. Smooth Sound Transitions eliminate note and effect dropouts when switching sounds or modes. Connect virtual patch cables, select sounds, plus edit envelopes and sequences—all using the eight-inch color TouchView display. Add to that advanced sequencing, KARMA, and Drum Track composition tools. Enjoy exclusive KORG wavesequencing, MS-20 filtering and the impossibly-rich Polysix chorus. And only KORG boasts the finest sound-design team on the planet, so you can always sound your very best.
Nine Distinct Sound Engines
Each of the individual KRONOS sound engines is eminently qualified to operate as a stand-alone synthesizer. And each one represents the cutting-edge technology available for that type of sound creation. Exacting programming parameters, real-time controllers, integrated effects, and assignable modulation routings provide incredible control for the creating custom edits or for the ambitious sound designer
Enhanced SGX-2 Grand Piano Sound Engine
The KRONOS piano engine has always offered huge collections of non-looped/natural decay stereo samples, recorded for every key, with additional unique tools to customize the piano to your needs. Inheriting all of this SGX-1 functionality, the new enhanced SGX-2 Grand Piano engine introduces the new Berlin Grand piano to the existing deep German Grand and lively Japanese Grand. The Berlin Grand offers resonant piano sound with a striking sense of depth.
Other enhancements to the SGX-2 engine included Sympathetic String Resonance and newly-recorded Una Corda (soft pedal – literally "one-string") samples.