The ZOOM H2N Handy Recorder
The Workhorse of Field Recorders
The H2n Handy Recorder is the only portable recording device to come with five built-in microphones and four different recording modes: X/Y, Mid-Side, 2-channel surround and 4-channel surround. Other advanced features include automatic gain control and onboard MS decoding, plus effects like compression, limiting and low cut filtering. You can even use the H2n as a multi-purpose USB microphone!
---
Five microphones, four ways of recording
The H2n offers not one, not two, but five built-in microphones. Two of them are arranged as an X/Y pair, while the other three are configured in an MS ("Mid-Side") pattern. They can be used separately for X/Y or MS stereo recording, or combined to create stunning 2- or 4-channel surround sound.
Mid-Side for variable stereo width
Mid-Side recording is an incredible technique that allows you to actually adjust the width of the stereo image after it has been recorded, while maintaining perfect mono compatibility, making it especially useful for film, video and television projects.
The three microphone elements in the H2n MS mic are set directly on top of one another. One faces forward and the other two face to the side:
X/Y for natural-sounding stereo
The X/Y technique provides a great way to cover a wide area while still capturing sound sources in the center with clarity and definition, making it perfect for all types of live stereo recording.
The H2n's built-in X/Y microphone provides two matched unidirectional microphones set at a 90 degree angle relative to one another, optimum for most stereo recording applications.
Surround sound for lifelike realism
The H2n allows you to combine the signals from both the X/Y and MS microphones in order to create surround sound recordings of everything you hear—not just those sounds coming from in front of you, but from all directions.
Use 2ch mode to create a single stereo file of the combined mics, or 4ch mode to record the signal from the H2n's X/Y mics onto one stereo track and signal from the MS mics onto another.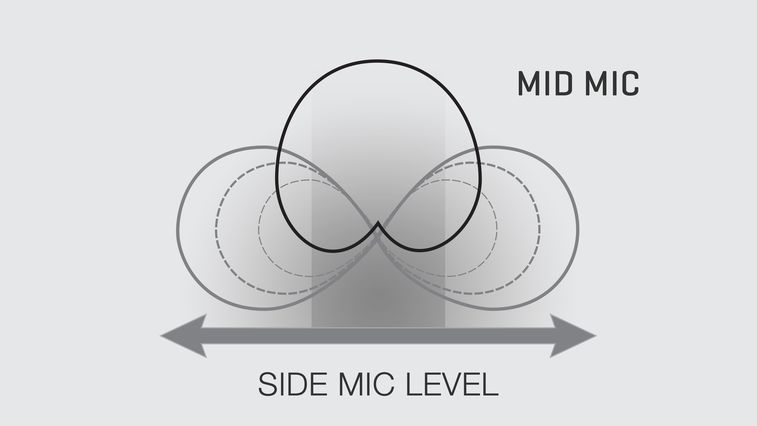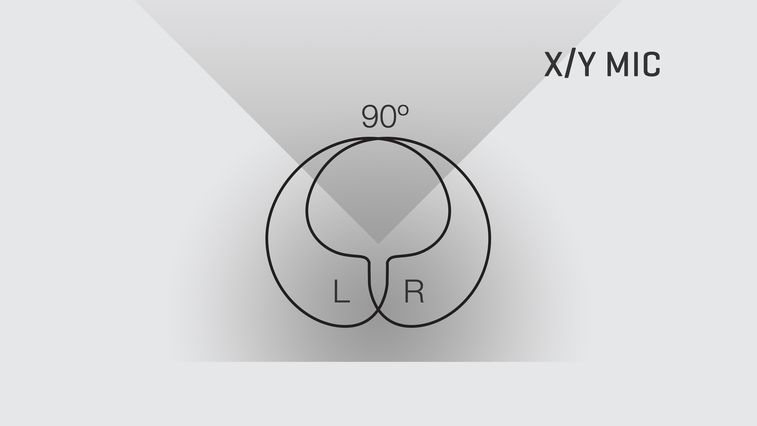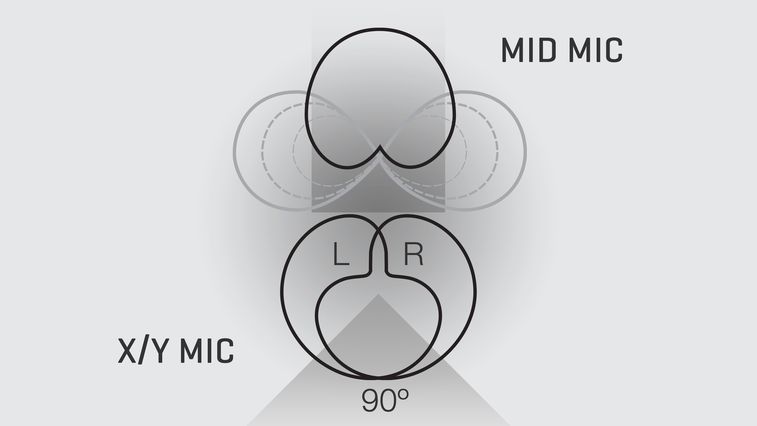 Pre-Record, Auto-Record and Data Recovery
Pre-Record
The interview started a split-second before you were ready. The conductor lifted his baton just as you were checking a cable. The talent went back on-air a moment too soon.
Auto-Record
Auto-Record allows the H2n to automatically start recording when a certain level of sound is detected. As soon as an incoming signal exceeds the Start Level you've set, recording begins.
Data Recovery
The H2n's Data Recovery feature automatically repairs corrupted files—something that can happen if power is interrupted during recording or if an SD card is removed during a writing or editing procedure.
Battery life and recording times
The H2n requires just 2 AA batteries—either alkaline or rechargeable NiMH. Battery life when using alkaline batteries is more than 20 hours, even during continuous recording. Alternatively, you can use an optional AD-17 AC adapter, which allows you to power the H2n from any standard wall socket.
The H2n records directly to SD cards. It supports standard SD and SDHC cards, up to 32 gigabytes. The chart below shows maximum recording time with different file formats and card sizes.
Using the H2n as an audio interface
The H2n's USB port allows it to send and receive digital data and to act as a 4-input / 2-output audio interface (enabling you to use it as a USB microphone). Simply connect the H2n to your laptop or desktop computer via USB, launch your favorite DAW or use the included WaveLab LE software, and start laying down your tracks.
State of the art editing with every recorder
The Zoom H2n comes with free download licenses for Steinberg's Cubase LE music production software and WaveLab LE audio editing software, providing not just the ability to capture superior audio in every box, but to do spectacular things with it.
Take your recordings to a more professional level. Steinberg's powerful and state-of-the-art audio software used by creators around the world now comes with every Zoom Handy Recorder purchase.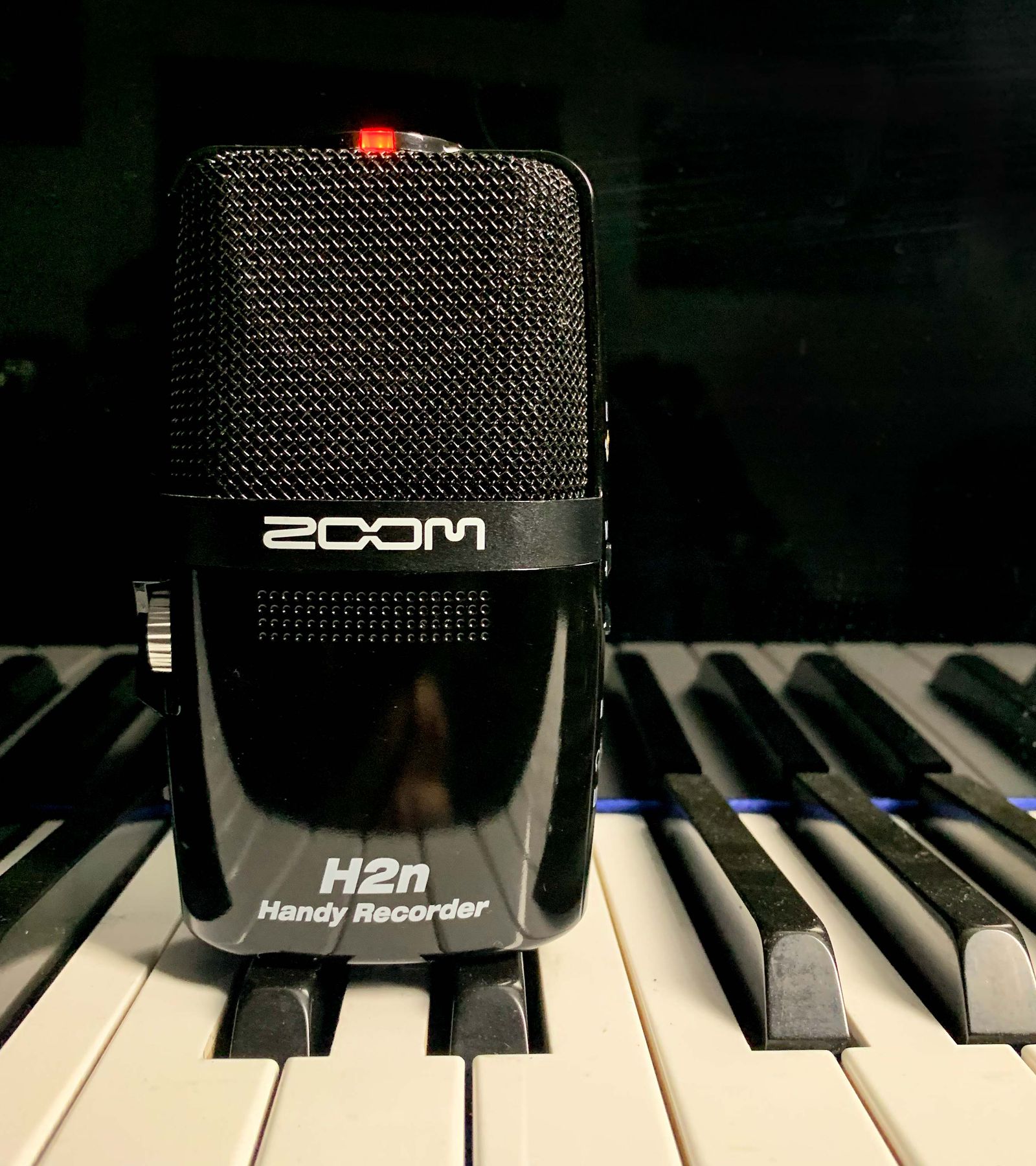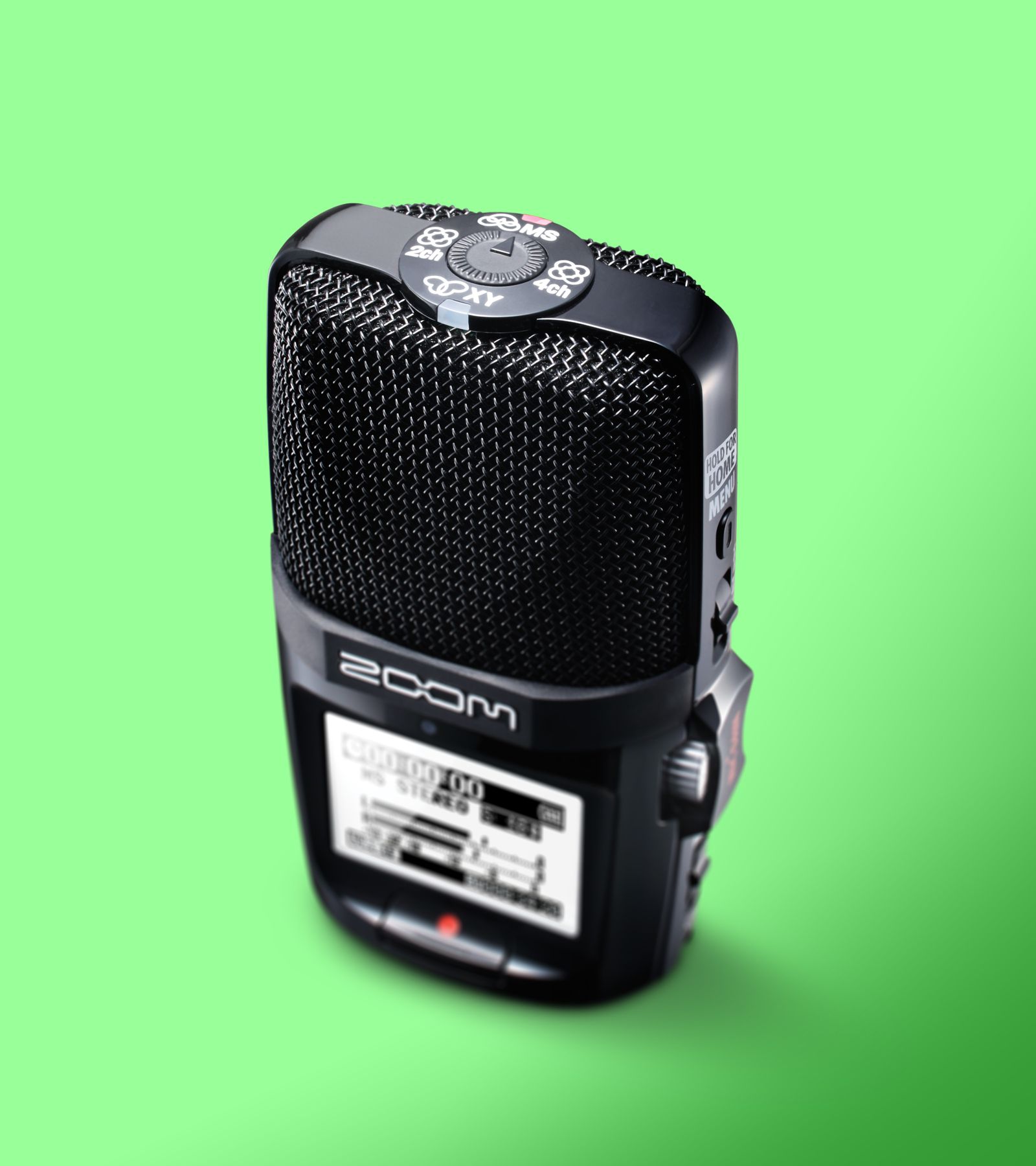 Specifications of the ZOOM H2n Handy Audio Recorder
Five built-in microphones and four recording modes: Mid-Side (MS) stereo, 90° X/Y stereo, and both 2-channel and 4-channel surround
Analog-type input gain control
Auto Gain provides three preset recording levels
Stereo ⅛" Mic/Line In mini phone jack with Plug-in power (2.5V)
Stereo ⅛" Phone/Line Output jack with dedicated volume control
Built-in reference speaker for fast monitoring
Large 1.8 inch backlit LCD display
Records directly to SD and SDHC cards up to 32 GB
Supports up to 24-bit/96 kHz audio in BWF-compliant WAV or a variety of MP3 formats
Auto-record and Pre-record features
WAV to MP3 conversion
Internal mixdown: four-track surround to stereo
Up to 99 marks per recording
Built-in effects, including compression/limiting and low-cut filtering
Onboard MS decoding
Normalize and Divide functions
Chromatic tuner and metronome
Loop playback with user-defined start and stop points
Variable playback speed, from 50% to 150% for phrase training
Variable pitch without affecting playback speed
USB port for data exchange to and from computer and use as a USB microphone
4-in/2-out USB audio interface for PC/Mac computers
SD card reader function
Data recovery function automatically saves data if power fails or card is removed
Mounts directly to tripod or DSLR
Runs on only 2 standard AA alkaline or NiMH rechargeable batteries, or AC adapter (AD-17, USB to AC type)
Over 20 hours of operation with 2 AA alkaline batteries
Here's what comes included with the Zoom H2n Handy Audio Recorder:
Operation manual
2 AA batteries
Steinberg Cubase LE and WaveLab LE editing software
Optional Accessories Sold Separately for the ZOOM H2n Handy Audio Recorder