ZOOM H1n
The Ultimate Handy Recorder
Creators everywhere are using Zoom Handy Recorders to capture sound and sample audio like never before.
The new H1n is the ultimate take-anywhere recorder for every creator's gear bag.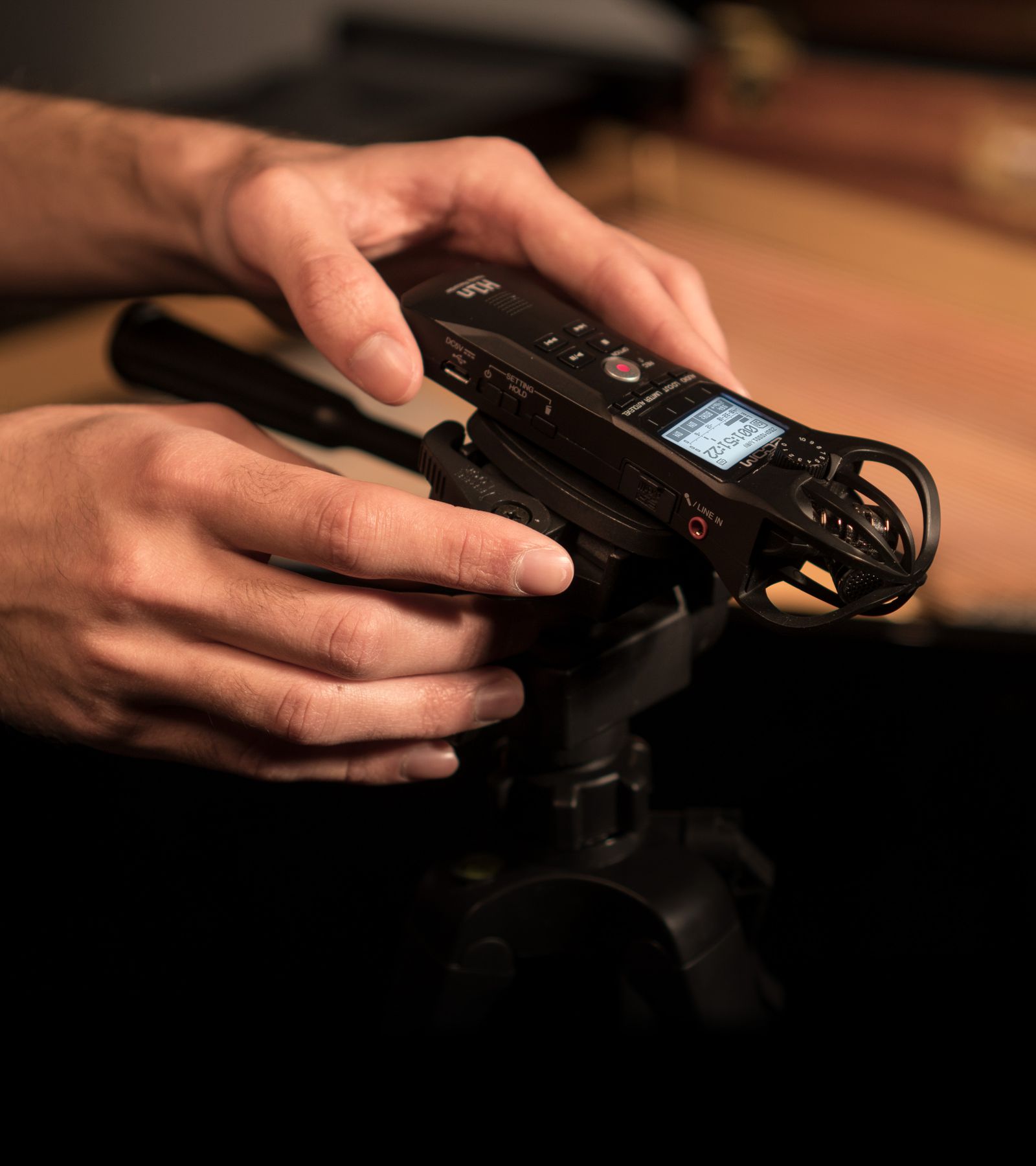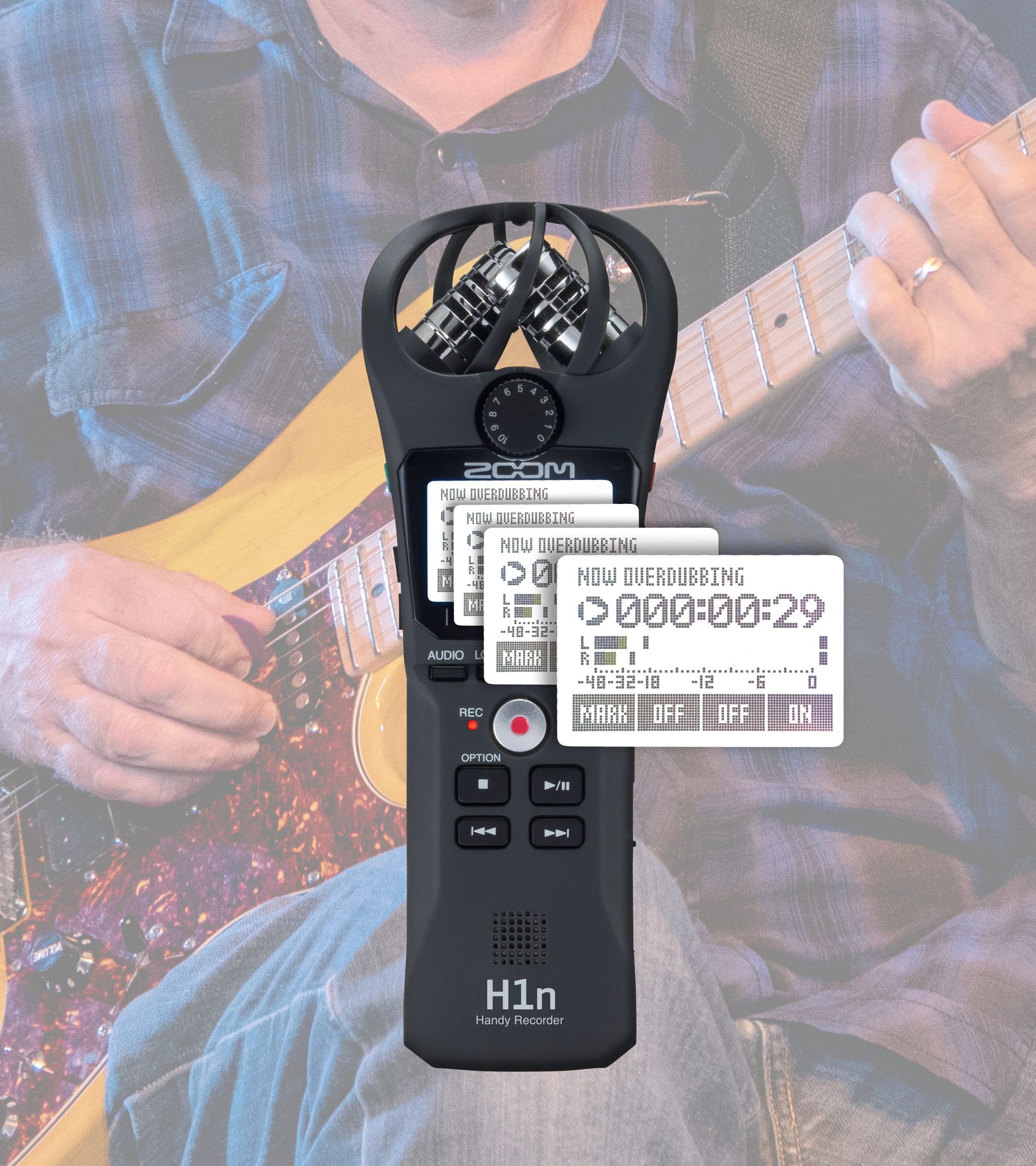 ---
Zoom Your Audio Anywhere and Everywhere
The H1n's X/Y microphones capture high-quality stereo sound, supporting up to 24-bit audio at sampling rates of 44.1, 48, or 96 kHz in WAV and various MP3 formats.
New Controls
With the H1n, we've redesigned the user experience. One-touch button controls make it simple to record songs, audio-for-film, lectures, podcasting, and more. And its new monochromatic 1.25" LCD display is easy to read even in the brightest lighting conditions.
The Connections You Need
An ⅛" stereo mic/line input lets you record with your external microphones or other sound sources, and supplies plug-in power (2.5 volts). Connect headphones via the ⅛" headphone output with dedicated volume control.
You can also use the H1n's built-in speaker to listen to your recordings.
Maximum Capacity
The H1n is battery-powered and offers up to 10 hours of recording time. Put it in your pocket, toss it in your backpack, or mount it to a camera—the H1n travels wherever you do.
You can also set the H1n to auto-record, pre-record, and self-time, making sure you always capture the moment.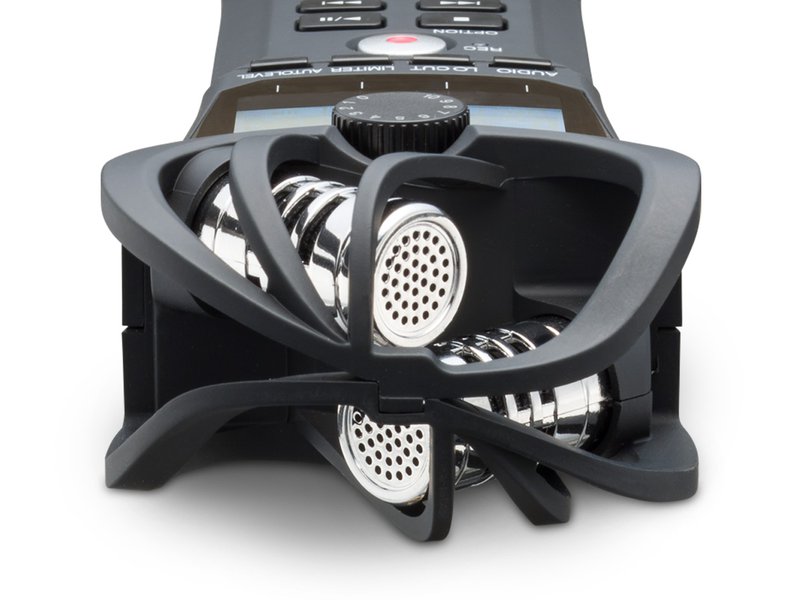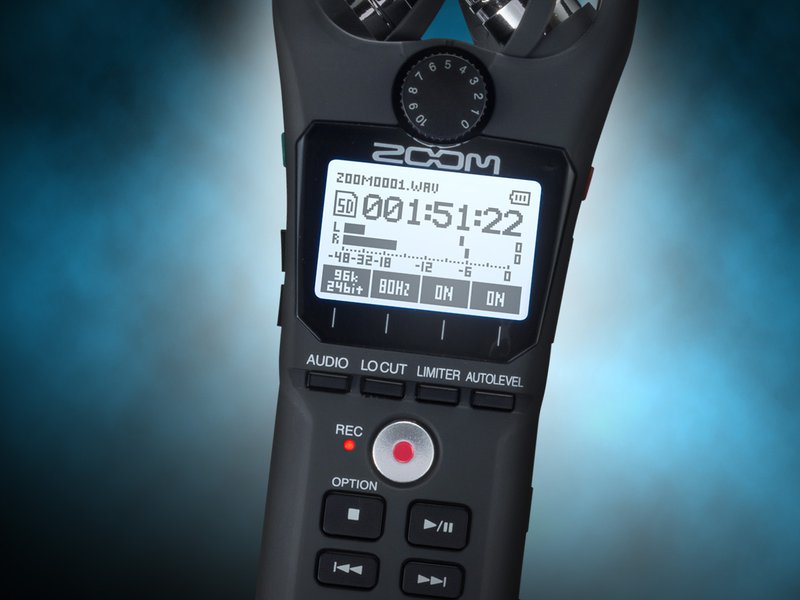 Free Recording Software
The Zoom H1n comes with free download licenses for Steinberg's Cubase LE music production software and WaveLab LE audio editing software.
Features of the ZOOM H1n Portable Handy Recorder at a glance:
One-touch button controls
1.25" monochrome LCD display
Intuitive menus for easy operation
Stereo X/Y 90˚microphones handle up to 120 dB SPL
Stereo ⅛" Mic/Line In mini phone jack
Stereo ⅛" Phone/Line Output jack with dedicated volume control
Limiter button for input signal up to 120 dB SPL
Playback Speed Control, Voice Emphasize Filter, and Stereo Bounce functions
Auto-Record, Pre-Record, and Self-Timer functions
Supports up to 24-bit/96 kHz audio in BWF-compliant WAV or a variety of MP3 formats
Tone generator for filmmaking use with DSLR and video cameras
Records directly to microSD and microSDHC cards up to 32 GB
Micro USB port for data exchange to and from computer and use as an audio interface
Runs on only 2 standard AAA alkaline, Lithium, or NiMH rechargeable batteries, or AC adapter (AD-17)
Up to 10 hours of operation with alkaline batteries
Here's what comes included with the purchase of the ZOOM H1n Handy Recorder:
2 AAA Batteries
Steinberg Cubase and WaveLab LE
Quick Start Guide
Optional accessories for the ZOOM H1n are available as well!
Specifications
Simultaneous playback tracks
2
Simultaneous recording tracks
2
Functions
Lo-cut Filter, Limiter,Test Tone,Slate-Tone,Voice Emphasize Filter, Playback Position Skipping, Playback Speed Control, A-B Repeat, Auto REC Level, Marker, Auto-Record, Pre-Record, Self-Timer, Overdubbing
Recording formats
WAV: 44.1 kHz/16-bit, 48 kHz/16-bit, 48 kHz/24-bit, 96 kHz/24-bit
A/D conversion
24-bit, 128x oversampling
D/A conversion
24-bit, 128x oversampling
Signal processing
32-bit
Recording media
microSD/microSDHC cards (Class 4 or higher, up to 32 GB
Display
1.25" monochrome LCD (96 × 64)
Built-in stereo mic
Unidirectional condenser, 90° XY stereo format Gain: -∞ dB to +39 dB Maximum sound pressure level: 120 dB SPL
Inputs
1/8" stereo phone jack Rated input level: -∞ dB to -39 dBm Input impedance: 2 kΩ Plug-in power supported (2.5 V)
Built-in speaker
Built-in 500 mW mono speaker Output impedance: 8 Ω
Outputs
1/8" stereo phone jack (combined line/headphones) Rated output level: 20 mW + 20 mW into 32Ω load Output impedance: 10 kΩ or more
USB
Micro USB port Mass storage class operation: USB 2.0 high speed Audio interface operation: 44.1/48kHz sampling rate, 16-bit depth, 2-in/2-out Transfer method: asynchronous
Power requirements
2 AAA batteries (alkaline, nickel-metal hydride rechargeable, or lithium) AC adapter (ZOOM AD-17): DC 5V/1A USB bus power
Battery life (alkaline batteries)
Approximately 10 hours (continuous recording time using built-in mic, 44.1 kHz/16-bit)
Dimensions
1.9 in (W) x 5.4 in (D) x 1.2 in (H) 50 mm (W) × 137.5 mm (D) × 32 mm (H)
Weight
0.13 lbs / 60 g (without batteries)
* Specifications and appearance are subject to change without notice for improvement.
* All product names and company names are the trademarks or registered trademarks of their respective owners.