Now even easier to see and hear.
The MA-2 is the new must-have metronome for orchestral instruments.
The MA-1, a compact card-type electronic metronome, has been further improved. The MA-2 is an indispensable unit for rhythm training, and solidly covers the functions of a metronome. In addition to basic functionality such a wide tempo range and a generous number of beats and rhythm patterns, it also provides user-friendly features including an improved display, a loud, crisp sound, and additional functions such as a newly provided "timer mode." Choose from two different vivid and stylish color schemes for the body: blue and black, or a black and red.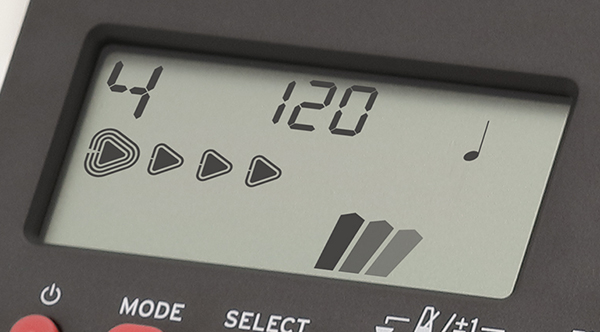 Larger and more easily readable display
The MA-2's display is 30% larger than that of the previous model, drastically improving the visibility. Within the display, a digital needle moves between left and right, providing a visual indication of the beat in additional to the audible indication. A triangular icon shows the beat position and the timing at which the measure changes.
Enhanced volume and crisp sound for easier detection
Enhanced volume and crisp sound for easier detection The MA-2 is equipped with a newly designed electronic buzzer. It's more powerful, providing easily audible sound that won't be buried by high-volume instruments or high frequencies.