Stand out on any stage with the D1 in an elegant white.
The super-slim, great-sounding D1 stage piano is now available in both the original black, and a new white color variation. Loaded with 30 sounds and complete with a pedal and music rest, the D1 in either color is a fantastically streamlined stage piano that combines great feel, sound, and portability.
The playing feel of a grand piano, on stage or in your room.
A speaker-less slim piano ideal for daily practice or performing live.
For players interested not only in classical, but also jazz, rock, or funk, the convenience of being able to play in a practice room plus the mobility to take the D1 anywhere is key. On top of that, a carefully fine-tuned playing feel is crucial. The D1 is a piano that delivers on all counts for pianists and keyboardists of any genre.
The D1 is focused on providing the ultimate in slim, compact design. The result is a top-class keyboard that reproduces the playing feel of a grand piano, and yet is highly portable. With its high-quality keybed developed by KORG and a rich variety of 30 sounds that will shine on stage, this instrument is the perfect fit for daily practice or performance
Bench and Stand are sold separately for D1.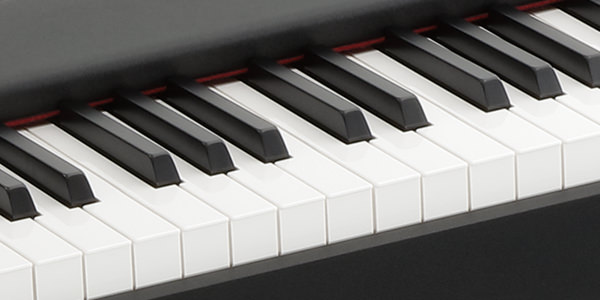 Japanese-made high-quality RH3 keybed
The D1 features a real weighted hammer action 3 (RH3) keybed that reproduces the touch of a grand piano, where the low notes are heavier and the action becomes lighter as you play toward the higher notes. With this keybed's natural-feeling touch and weight, you'll want to keep playing it forever.
A compact body that you can take anywhere
The chassis construction has been rethought with a new structure and design that slims the body to a depth of approximately 26 cm* (10.24"), the minimum depth that still allows enjoyable playing. Even though the D1 features a full-fledged weighted keybed, it's highly mobile, and can be carried anywhere in its dedicated SC-D1 soft case (sold separately).
Convenient functions that you expect from a digital piano
The metronome can be turned on/off at a touch. Layer mode lets you layer two sounds simply by pressing two sound buttons simultaneously, for example letting you combine strings or vibraphone with the piano sound that you're playing. The touch control function lets you choose from five settings (light, standard, heavy, stable, fixed) to specify how the sound responds to your playing dynamics, allowing you to enjoy performing with the response of your choice. Three high-quality effects are also built-in: brilliance, reverb, and chorus. The optimal effect for each internal sound is already specified as a preset, so you can simply select a sound and focus on playing it with the best possible tone.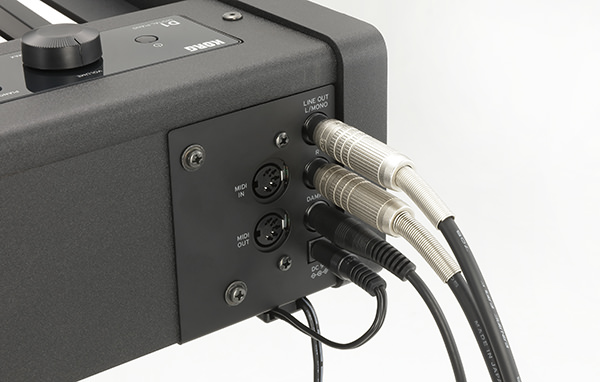 Standard-sized LINE OUT jacks, and also MIDI IN/OUT connectors
The D1 provides the external connection jacks that you'll need on stage. The standard-sized LINE OUT jacks can be connected directly to amplified speakers or to recording equipment. MIDI IN/OUT connectors are also provided. You can connect these via a MIDI interface to your computer, and use the D1 as a MIDI keyboard or as a piano sound module.
Music rest and dedicated pedal for stage play are included
The music rest that's indispensable for stage performance is included standard, and can easily be attached to the D1. Also included is a compact-sized damper pedal for convenient portability.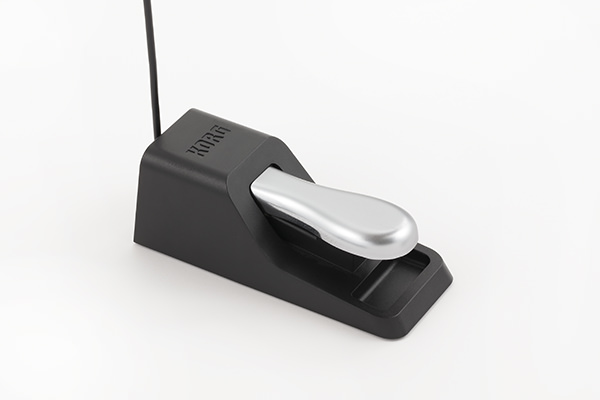 Specifications
Colour Variations

Black, White

Keyboard

88 key (A0–C8), RH3 (Real Weighted Hammer Action 3) Keyboard

Touch Control

Five types

Pitch

Transpose, Fine tuning

Temperament

9 types

Sound generation
Stereo PCM
Maximum polyphony
120 voices
Sounds

30 (10 x 3 Banks)

Effects

Brilliance, Reverb and Chorus (3 levels each)

Demo Songs

30 (Sound Demo song x 10, Piano Demo Song x 20)

Metronome

Tempo, Time signature, Accent, Sound and Volume controls

Pedal

Damper (Half-pedaling supported)

Connections

LINE OUT (L/MONO, R), MIDI (IN, OUT), Headphones, DAMPER

Power Supply

DC 9 V, AC adapter (included)

Controls




Power, Volume, PIANO SONG, TRANSPOSE, FUNCTION, TOUCH, BRILLIANCE, REVERB, CHORUS, BANK, Sound x 10, +, -, Metronome

Power Consumption
1.5 W
Included Items

AC adapter, Music stand, Damper Pedal

Dimensions (W x D x H)
s (W x D x H)1327 x 263 x 128 mm / 52.24" x 10.35" x 5.04" (without music stand)
1327 x 375 x 328 mm / 52.24" x 14.76" x12.91" (with music stand)
Weight

16 kg / 35.27 lbs. (including Stand)
* Specifications and appearance are subject to change without notice for improvement.
* All product names and company names are the trademarks or registered trademarks of their respective owners.