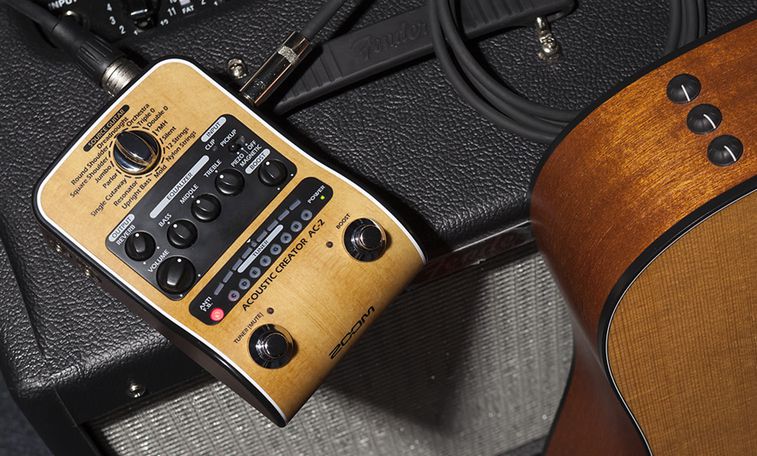 Your Acoustic Sound — Amplified.
Amplify your acoustic sound with the Zoom AC-2 Acoustic Creator.
The AC-2 is a DI (direct box) that encompasses all you need to deliver natural guitar tone on stage or in the studio. The AC-2 automatically restores tone lost through acoustic pickups, so your sound is always lush, resonant, and faithful to the instrument you have in hand.
Restore Your Acoustic Tone
With 16 source guitar presets, the AC-2 recovers the sonic characteristics of a variety of guitar types and body shapes. You can choose from dreadnought, upright bass, nylon strings, 12 string, and more.
Simply select your guitar of choice, then choose piezo or magnetic pickup. From there, the AC-2 is ready to reproduce and amplify your guitar's tone with complete accuracy.
Specifications
Source Guitars:

16 types

Sampling frequency:

44.1 kHz

A/D conversion:

24-bit with 128x oversampling

D/A conversion:

24-bit with 128x oversampling

Signal processing:

32-bit

Frequency characteristics:

20 – 20 kHz +1 dB, -3 dB (10 kΩ load)

INPUTS
GUITAR IN:

Standard monaural phone jack
Rated input level: -20 dBu
Input impedance: 10 MΩ

OUTPUTS
1 / MONO / PHONES:

Standard stereo phone jack
(combined line/headphones)

Maximum output level:
Line +7 dBu (10 kΩ or more outuput impedance)
Headphones 8 mW + 8 mW (into 32 Ω load)

2:

Standard mono phone jack
Maximum output level:
Line +7 dBu (10 kΩ or more output impedance)

Balanced Output:

XLR jack
Output impedance:
100 Ω (HOT-GND, COLD-GND), 200 Ω (HOT-COLD)
PRE/POST (switchable)
GND LIFT (switchable)

Equivalent input noise:

120 dBu

Noise floor (residual noise):

-100 dBu

Power:

AC adapter DC9V, 500 mA center negative (ZOOM AD-16)
Batteries: 2 AA (about 3 hrs continuous operation time using alkaline batteries)

USB:

USB MIDI USB Micro-B

Dimensions:

158 mm (D) X 107 mm (W) X 52 mm (H)

Weight:

0.570kg / 1.26 lbs (without batteries)

* 0 dBu=0.775 V

* Specifications and appearance are subject to change without notice for improvement.
* All product names and company names are the trademarks or registered trademarks of their respective owners
.
Great Sounding AG Pedal. Worth the money!

Mel10/13/2019

It's an all in one AG PEDAL / DI with Reverb, EQ, and a good selection of tones that sounds great plugged in. Using Roland Street Cube EX and Taylor GA4 and Cort SFX10 ABR. Only problem I had was registering warranty online at Citymusic website. Cant upload and showing message that I must use javascript for the page to be used properly. :(